Memory foam pillow VENIXSOFT anti cervical classic form with Aloe Vera -MEDICAL DEVICE CLASS I - Made in Italy
In Stock
VAT included
long delivery
Memory foam pillow
Memory foam pillow breathable in LINFA of ALOE VERA with a relaxing and restful effect
Medical Device Class I, Deduction of 19%
Measures: 72 x 42 cm - Height 13,8 cm
MADE IN ITALY
Memory foam pillow
Memory foam pillow Made by innovative VISCO - ELASTIC CASANOVA® foam (memory foam)

The Visco-elastic foam adapts to the body shape and equally distributes the weight, supporting any position and relieving the natural pressure of the body.


Visco-elastic foam that, thanks to its special features of non-deformability, ensures excellent comfort and wellbeing. Is the friend of your dreams, providing the best support to your head. It gently shapes in a way that uniformly distributes the weight. An after use, it slowly and gradually returns to its original shape. Moreover, thanks to its special configuration, it sustains the vertebrae of the neck in the natural position, ensuring a sweet and soft wake-up and energy charge every morning.

Is moulded in order to enhance the features of this special foam and to avoid any subsequent processing and the additional use of gluing substances. The Visco-elastic foam is manufactured in compliance with the highest public health and environmental protection standards. The Visco-elastic foam is ergonomic, hygienic, breathable, mite-free and is produced without CFCs.

Pillow is covered with

100% cotton pillowcase with zip
This product is based on new combinations of vegetable extracts including Aloe Vera sap and officinal herbs essential oils. The pillow is made by a brand microcellular polyurethane foam, based on vegetable raw materials from natural renewable resources since our company commits to environmental protection and sustainability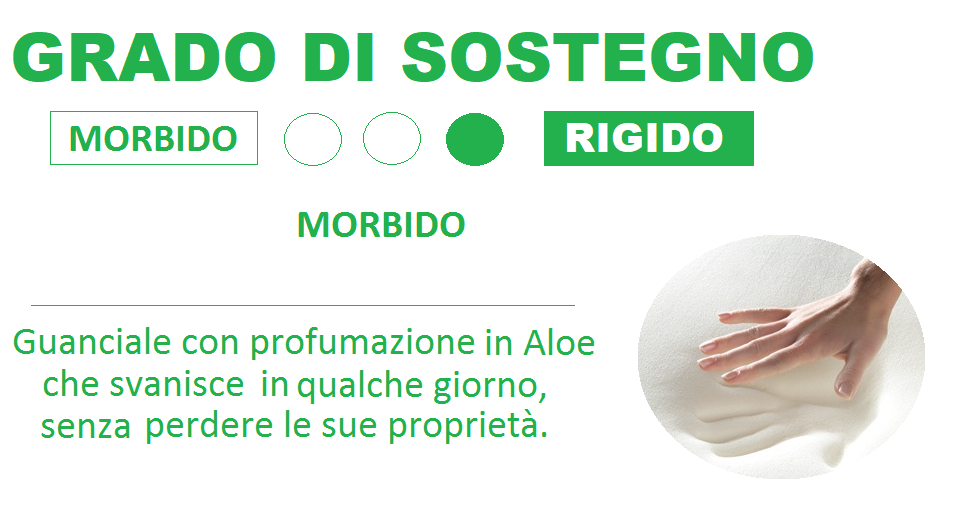 The product can be covered with various types of covers:
| | |
| --- | --- |
| | SILVER PILLOWCASE: the pillowcase is made of a silver fiber obtained from a pure silver layer combined with textile fiber. Silver is an antimicrobial par excellence, it ensures a protection against dust mite, hygiene and antibacterial protection, from freshness and lasts over time avoiding the development of bad smells. Pillowcase with zip. Composition: 88.99% Polyester, 11% Elastane and 0.01% Silver |
| | ALOE PILLOWCASE: the pillowcase is formed by millions of microcapsules that release beneficial substances that are absorbed by the human body going to positively influence some important functions such as awakening, attention, memory capacity, carrying out a soothing and moisturizing action on the epidermis. Pillowcase with zip. Composition: 100% Polyester |
| | MITE FREE PILLOWCASE: the pillowcase with anti-mite treatment has anti-mite, antibacterial, hypoallergenic and anti-odor properties, improving sleep and fighting the dust mite due to asthma and rhinitis. The pillowcase is washable in water at low temperatures. Pillowcase with zip. Composition: 89% Polyester and 11% Elastan |
| | BAMBOO PILLOWCASE: The bamboo pillowcase avoids deposit of mites and bacteria, emanates negative ions that mitigate the pollution caused by the electrical systems of the house, absorbs the electromagnetic waves that develop in the bedroom. Pillowcase with zip. Composition: 70% Polyester 30% Bamboo |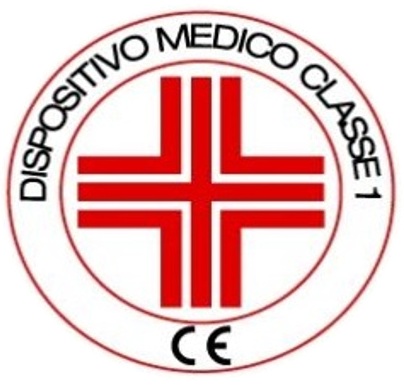 Medical Device Class I DIRECTIVE 93/42 / EEC Deduction of 19% of taxes (IRPEF) as medical expenses subject to medical prescription.
For further information you can consult the site of the Office of the Health in the section "Detraibilità dei dispositivi medici", besides through the code present in the photo you can find our product. (For the deduction, send the Billing data to the email address info@venixsoft.it at the time of purchase)
INDICATIONS FOR THE CONSUMER
The product is subject to developing yellowing areas for direct exposure to air and sunlight. The mechanical and physical characteristics of the product are not affected.
A period of adaptation may be necessary before getting used to this type of material and its characteristics.
The material would have a characteristic odor due to the packaging; the smell naturally vanishes by opening the package and arranging the cushion before using it.
The padding IS

NOT WASHABLE

simply take care to ventilate the cushion regularly to keep it fresh. The use of pillowcases and a cushion cover effectively protects against stains and dirt, prolonging the durability.
Certifications:
Oeko-Tex certificate
LGA certificate

UNMISSABLE SERVICE POST-SALE ALWAYS TO YOUR DISPOSITION
16 other products in the same category:
Customers who bought this product also bought:
Memory Foam Pillow Memory Foam Pillow with massaging system with 100% cotton pillowcase Measures 70 x 41 - Height 11,5 x 8,8 x10 cm DISPOSITIVO MEDICO CLASSE I, Detrazione Fiscale del 19% MADE IN ITALY
Memory foam pillow Memory foam pillow breathable in LINFA of ALOE VERA with a relaxing and restful effect Medical Device Class I, Deduction of 19% Measures: 70 cm x 40 cm - Height 10 - 12 cm MADE IN ITALY
Pair of pillowcases Pair of pillowcases Bamboo for memory foam, latex and fiber pillows. MADE IN ITALY
Feedaty Reviews (7)

Cuscini perfetti, comodissimi e come da descrizione. Consigliati. Grazie

Sicuramente il mio guanciale preferito tra quelli disponibili

corrisponde alla descrizione . Confortevole 😊

Semplicemente stupendo, oltretutto tenendo conto che quello all'Aloe l'ho pagato € 31,92, prezzo ben inferiore ai cuscini dell'Esselunga…. Faccio solo un po' fatica a mettere la federa, ma pazienza.

Perfetto, tutto corrispondente alla descrizione.

Buono. Prezzo un po' più alto rispetto a quello di un paio di mesi prima, ma purtroppo con il lockdown quella spedizione è stata annullata.

Bello il bamboo, profumata l'aloe. Finalmente riesco a riposare come si deve, basta mal di collo